Steadman Tool & Die, Inc. /
Alward Industries, LLC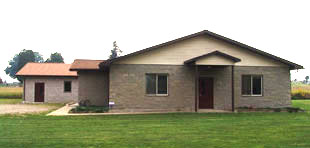 Steadman Tool & Die, Inc. was founded in 1991 by Ross Steadman. In 1995 the business expanded into our 10,000 sq. ft. facility specially designed for our precision machining needs with specific temperature and dust controls.
In September 2022, Steadman Tool & Die, Inc. was purchased by Curtis Alward and his wife Jenniffer. At this time the business transitioned to Alward Industries, LLC. Curt had been in the tool and die trade for 28 years at the time of the sale and plans to conduct business as it has been conducted in years past.
Alward Industries, LLC builds precise accurate repeatable tooling to your exact design. Our manufacturing experience consists of producing micro cavity inserts, cavity block, and components for plastic molds, specializing in electric connector tooling, punch, die section, and components for progressive dies, precision fixture, gages and carbide tooling.
Company Philosophy
Alward Industries is a customer-driven supplier, with a long standing reputation for exceptional quality, turn-around, and pricing that is required in today's business environment. Our collaborative philosophy with customer diversified needs provide the foundation for creativity and execution of challenging projects. We analyze every job we quote to accomplish the most efficient manufacture process within your design specification and batch size.
Alward Industries provides precision components, assemblies, class A tooling, prototyping and repair. Customers benefit from product realization, tooling lifecycle, and access to all critical information.